Last Updated on June 22, 2019 by Calibre 11
It's been called the quartz crisis and the quartz revolution. Not without good reason either, it saw a good deal of market share in world watch-making migrate from Switzerland towards the east and a multitude of mergers, acquisitions and even long-standing companies disappearing forever. Some would later re-emerge in slightly different guises; others have remained lost to this day. Some of those mergers created very large groups such as what was to become ASUAG/Swatch, which later would cause some monopoly issues for the rest of the watch-making companies in Switzerland. Suffice to say, the effects were widespread, significant and long-lasting.
The Electromechanical Watch
That's not to say the Swiss entirely had their heads in the sand throughout and hadn't seen the arrival of the quartz watch coming. The precursor of the quartz watch proper is considered to be the electromechanical watch. Research work had started on these post-war, electrically powered clocks already having been produced in the pre-WWII period and was accelerating by the early 50s. The then US company Hamilton rushed its 500 movement to market in 1957 to have the distinction of the first "electric", battery-powered watch and emphasised this new type of movement with many of the cases being unusually shaped and often asymmetrical.
The Hamilton movement, though electric, was not "electronic" as we would come to understand it with later quartz watches as it did not feature any transistors or rudimentary circuit componentry – the battery was simply a power source for the movement. That achievement went to a French watchmaking company the following year, LIP releasing its R27 movement in 1958. The design was broadly similar to the Hamilton, but the LIP movement used a diode to reduce sparks at the contacts within the movement, thus earning that first "electronic" watch distinction with a single, very simple component. At this point, though, we're still quite some way away from a quartz movement. The next breakthrough would come in 1960 from the New York company Bulova, with the release of the Accutron range of watches.
[1]
As well as featuring a tuning fork concept similar to later watches, this movement was also the first to feature a transistor (again, just a single one). It could be argued (and has been) that this is more deserving of the first electronic watch accolade than the LIP movement with its single diode. The movement was shown off on the Spaceview watches (the example above is a 50th anniversary reissue), which didn't feature a classical "dial" at all, allowing an unimpeded view of the movement. Though it is hardly as attractive as a highly decorated "skeletonised" mechanical movement, the point is that it was new technology and Bulova was proud to have it on view.
But what does any of this have to do with Switzerland, you might well ask! Well, although Bulova was an NYC company, the movement was the brainchild of one Max Hetzel, a Swiss engineer at their office in Bienne in, you guessed it, Switzerland. So at this point, the biggest step towards a quartz watch had been taken in Switzerland.
The Quartz Watch
They even went as far as to set up an office specifically to research and develop quartz movements in 1962, the "Centre Electronique Horloger" in Neuchâtel. They weren't alone in heavily researching quartz at this point though. Seiko was also working hard on this in Japan, and were using quartz clocks as timers for the marathon in the 1964 Olympics in Tokyo. Several companies competed to get the quartz mechanisms ever smaller and more portable, culminating in Seiko unveiling their Astron model on Christmas Day in 1969.
Quite contrary to later preconceptions of quartz as a cheap, throwaway technology, you could say the Astron was astronomically (yeah, sorry about that one!) expensive. Nonetheless, despite a price equivalent to about £5000 today (~$8000), they managed to find 100 takers in the space of a week, showing the lure of new technology.
[2]
Remarkably, Heuer aficionados may be aware that Seiko were also developing an automatic chronograph movement in the same period, narrowly missing out to the Heuer/Breitling/Büren/Dubois-Depraz consortium as related in Jeff Stein's "Project 99" article- a busy time to be a Seiko engineer, the late 60s… The Swiss still weren't left far behind, with Ebauches SA (later to become ESA, then ETA) producing their own quartz movement for the Basel Fair the following spring (1970). In another example of things coming full circle, another partner in the Project 99 consortium was Hamilton, makers of that first electric watch, thanks to their acquisition of Büren. Hamilton then went on to announce their development of a digital quartz watch, also in 1970.
Despite being in at more or less the start of the quartz revolution, then, the Swiss watchmaking industry was still comprised of many small companies supplying components in almost cottage industry fashion. Heuer was being supplied with dials by Singer, movements by Valjoux, cases by Piquerrez and Schmitz, springs by Breguet and other components from many more. Many of these were geared towards parts for mechanical watches, giving a degree of inertia to and some resistance towards adopting quartz watches. Other parts of the world, notably in the far east, didn't have the same constraints, particularly as Seiko hadn't seen fit to patent the entirety of their Astron movement and the market share of the Swiss (over 50% at the beginning of the 70s) soon began to erode.
By the late 80s, the Swiss workforce involved in watchmaking was less than one third the size it had been in 1970. The resurgence was to begin with the launch of the quartz Swatch in 1983, leading to the Swiss industry's current state of health now. But that's not to say that there weren't Swiss quartz watches in between 1970 and 1983; there were and that's what we're going to look at now.
Heuer and Quartz
I'm well aware that was quite a long preamble with little mention of Heuer in what is supposed to be a Heuer/TAG-Heuer blog, but I hope it was a scene worth setting! Some collectors tend to overlook the quartz watches, and it's an understandable sentiment. Are the guts of a Toyota Prius as interesting to the average car fan as a Ferrari V12? Probably not. In the same way, a quartz ESA movement will never look as attractive as a Valjoux 72 but that doesn't mean Heuer didn't use them, even in some of their most valued watch series. In fact, given Heuer was a company producing many more timers and stopwatches than chronographs, it should come as no surprise that they were interested in the accuracy of quartz.
[3]
A quartz watch relies on the ability of quartz to resonate at a very specific frequency when stress is applied, generating a small electrical charge (the piezoelectric effect). The frequency is also very stable, meaning even the cheapest quartz movement can be very accurate over time compared to even a regulated mechanical movement, or one with multiple tourbillons. It's no surprise then that we first see consumer quartz applications in timers from Heuer, rather than chronographs.
[4]
Digital Microsplits like the model above were available to the general public in the early 70s (the above example is from a 1974 catalogue but they had already been shown before this), having already been proven in professional timing use. A somewhat odd offshoot of the technology were the Heuer desk clocks available at the same period in the 70s:
[5]
Very desirable now, these are hard to find in working condition. This is one of the drawbacks of quartz technology – the best artisan watchmaker can make new parts to get a mechanical movement working again but if a quartz circuit board fails (or often any single component within), then it is often the end. Although substitute quartz movements can often be found to fit, the question becomes one of originality and how important it is to the collector. The next year (1975) would see the technology make the make to a Heuer wristwatch, rather than timer, with the release of the Chronosplit.
[6]
[7]
These have the complication of having one LCD and one LED display, and it is quite common for the LED (red digits) to fail before the LCD. Later models tend to feature dual-LCD displays as a result. Despite being one of the Ferrari F1 drivers who received the 18K gold Carrera 1158, Gilles Villeneuve is usually pictured wearing a Chronosplit instead: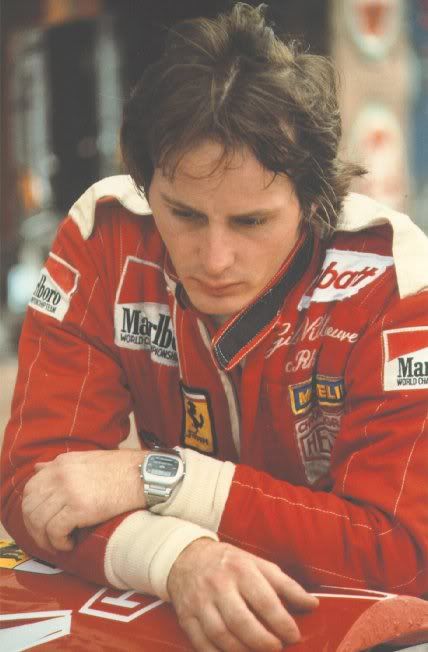 [8]
[9]
These still weren't cheap watches. A Chronosplit in 1978 would run you the same $435 as a barrel Carrera with Cal 12 automatic movement. A wrist worn digital Microsplit timer, however, could be had for as little as $150.
Quartz wristwatches proper
1977 sees the introduction of quartz watches that are more recognisably "wristwatch" and less specialist than the Chronosplit. The Chronosplit Manhattan retains an LCD module for the stopwatch function and pairs it with an analogue movement for general timekeeping:
[10]
At the bottom of the page, you'll notice something that Heuer hadn't offered since the end of the 1950s, a watch without any chronograph functionality. The same movement was also offered in another new watch, the Kentucky with its distinctive horseshoe-shaped case:
[11]
"Spaceage technology of beautiful design"? Decide for yourself! The same 1977 catalogue also shows the Cavallino series, quartz desktop clocks in replicas of F1 drivers' helmets:
[12]
The Manhattan and Kentucky were new watches, as was the Verona that appeared with both quartz and automatic versions the next year, but it was the appearance of quartz Carreras, also in 1978, that showed Heuer were being serious about quartz. One of Heuer's most revered lines was now available with quartz movements, having been mechanical only for the previous 14 years.
[13]
The version with an LCD chronograph, called the Carrera Twin, was as costly as a 110.253 automatic, while the time only version was only 10% cheaper than both.
[14]
The Verona Twin is even available with alarm function too. 1979 brought a variety of digital LCD watches in a style that might be more familiar from Casio watches than Heuers:
[15]
These are again very hard to find now. Here is an example of a functioning 16061 from collector Jarl Rehn-Erichsen:
[16]
The number of quartz watches was increasing, as was their prominence within the range. A brochure cover celebrating Heuer's status as official timekeeper for both summer and winter Olympics in 1980 has only quartz watches and timers on the cover:
[17]
The majority of the dive watch models had quartz movements and were proud to proclaim so on the dial. Even the "deep dive" watch rated to 1000 metres was quartz:
[18]
Some models, like the Autavia, stayed resolutely mechanical and were never available with a quartz movement. The number of quartz models was clearly on the rise though and, despite more automatic models being released following Heuer's acquisition by Nouvelle Lemania, by the time TAG acquired the company, quartz watches outnumbered mechanical in the range.
Quartz and TAG Heuer
This would continue for quite some time. In 1990's catalogue, quartz and automatic shared equal billing for some models:
[19]
The story is different for other models though. In the same catalogue, the 1000 series has 5 pages of quartz models to one of automatics.
[20]
The 2000 series has seven pages of quartz watches and precisely none for mechanicals. Zero. All the 3000s shown are quartz too.
[21]
It's wrong to assume that quartz "won" though. The first Carrera re-editions were manual-wind and when those movements became unavailable, they were replaced with automatics. The trend continued and, especially given TAG-Heuer's desire to produce some of its own movements as a manufacture, it has swung back in favour of mechanical movements. And that seems a fair balance, there is a place for both quartz and haute horlogerie movements in the range.
I may not have convinced everyone that quartz watches deserve their place in the Heuer and TAG-Heuer pantheon, but neither did I expect or even intend to. If you stopped, however briefly, to consider quartz anew though, then my work here is done.
***
References
[1] Bulova press release, Accutron Spaceview Anniversary 2010 [2] http://www.pressemeldungen.at/wp-content/uploads/2009/12/astron_stehend1.jpg [3] Wikipedia, Creative Commons licence [4][5][6][7][9][10][11][12][15][17][19][20][21] Courtesy Jeff Stein and OnTheDash [8] Courtesy  
www.chronocentric.com
[13][14] MM personal collection [16] Courtesy Jarl Rehn-Erichsen and  
http://classicheuers.blogspot.com
[18] Courtesy Stewart Morley and 
http://heuerville.wordpress.com