Last Updated on August 18, 2020 by Calibre 11
A few weeks ago we brought you the first in a new series of in-depth articles about the key mechanical movements found in TAG Heuer watches. Today, we look at a mechanical chronograph movement used broadly across the modern range- the Calibre 17. The Calibre 17 is an ETA 2894-2, and is closely related to other TAG Heuer movements, including the Calibre 7, Calibre 11, Calibre 12 and the Calibre 360.
The Calibre 17 is an example of what is known as a "modular" (or "Piggyback") movement, where a complication "module" is added to a base time-only movement. This allows different complications (chronograph, power-reserve, moon-phase) to be developed from the same base, offering greater efficiency and flexibility than an integrated chronograph- a generalist rather than a specialist if you will.
An easy way of telling whether your watch uses an integrated or modular chronograph movement is to look at the chronograph pushers and the crown. If they are aligned, then it's likely to be an integrated chronograph, such as the Calibre 1887 (below).
A modular chronograph (such as the LWO 283 below) usually has the crown sitting below chronograph pushers, reflecting the fact that the chronograph module sits on top of the base movement.
The prevailing view among many collectors is that- generally- an integrated chronograph is the preferred construction. It is often argued that an integrated chronograph was designed specifically for that purpose, whereas a modular movement is something of a hybrid. There are several examples of famous movements with both types of construction- the Chronomatic Heuer movement is a modular movement, while the Zenith El Primero (Calibre 36) is integrated.
But is integrated really any better, or this just a watch snob myth? We'll come to answer this shortly…
TAG Heuer Calibre 17 Models
The ETA 2894-2 was released in 1996 and appeared in the TAG Heuer range that same year. The Calibre 17 is available in two variants- a two register chronograph (2894-A2 with running second at 3 o'clock; 30 minute chronograph register at 9 o'clock; date window at 6 o'clock), such as the Carrera Jack Heuer 80 (above), or a three register Chronograph (ETA 2894-2) that adds a 12-hour register at 6 o'clock (see the Monaco re-edition below).
Other notable Calibre 17 models are:
6000 Automatic Chronograph
Carrera 39mm Chronograph
Carrera 40th Anniversary
Carrera Jack Heuer 80th Birthday
Grand Carrera Calibre 17
Kirium Automatic Chronograph
"Heuer" Monaco Re-edition (CS2111)
Monaco Calibre 17
Monza (2000)
SLR Chronograph
Targa Florio
TAG Heuer have reduced the number of Calibre 17 models recently, with the 2012 Carrera Jack Heuer being the first new Calibre 17 model since the launch of the Grand Carrera in 2008.
Base Module: ETA 2892
While the ETA 2894-2 may "only" be 17 years old, its origins stretch back a lot further. The base of the 2894-2 is the ETA 2892, which TAG Heuer call the Calibre 7. The 2892 was launched in 1975 and is a development of the family of Eterna movements that go back to the late 1940s. One of the features of the 2892 is its slim (3.6mm) profile, which makes it perfect for adding additional modules.
A revised model- the ETA 2892A2 followed in 1983 in the early days of what we now know as Swatch Group. The movement is used by many watch brands, including Omega's Calibre 2500, which was the first Omega movement to boast the co-axial escapement.
The Family Tree
The Calibre 17 is not the only TAG Heuer movement to use the Calibre 7 base. The Calibre 360 from 2005 is a TAG Heuer developed Chronograph module mounted on the 2892A2 (as you can see in the photo above- "2892A2" is engraved on the movement above around the 2 o'clock position).
The Calibre 11 movement found in the 2003 Autavia Re-edition, and subsequent Monaco models is a Dubois-Depraz module on a Calibre 7 base, as is the Calibre 12 in today's Monaco. While TAG Heuer has replaced the ETA base with one supplied by Sellita, it is essentially an identical movement.
Calibre 17- A Watchmaker's View
Nicholas Hacko is an Australian watchmaker who writes a popular blog taking readers into his workshop. Earlier this year, Nick wrote a great review of the Calibre 17 movement, which he has generously allowed to be re-printed below.
Integrated vs. modular? ETA 2894-2 movement, the Purists and a TAG Heuer Monza
Servicing a watch is a labour intensive and time consuming process which requires skills gained by years of practicing- as a rule, the more complex the movement, the more costly it is to service it.
Over the years many watch manufacturers went out of business for the very reason they got into it in the first place: a complex product which required labour and skills in both manufacturing and maintenance was often too expensive for the average watch owner.
The advancement of battery operated watches in late 70s and early 80s brought the Swiss watch industry to the brink of extinction. Only the fittest and strongest of watchmakers survived the Japanese onslaught.
"Brand name" Swiss makers concentrated their efforts on high-end product. Small guys disappeared, and those in middle who had manufacturing capabilities or provided a unique service to the industry were eventually absorbed by the big players.
In the 1980s some Swiss makers ventured into the field of modular engineering. This was an effort to retain mechanical complexity, yet to make the end product easier to manufacture and assemble – and eventually, easier to service.
In reality, the concept itself is as old as watchmaking. The final result is always a compromise – not necessary from a performance aspect but rather from the 'purist' view. More about purists later.
Here is the essence of modular watch technology.
As you already know, the watch movement consists of various 'blocks' which are cleverly put together in order to measure and display time. While some of those blocks work extremely hard 24/7, (escapement, train wheels, main spring, auto winding system), others perform certain actions only every now and then (calendar, day/date function). And then, there are some which are only engaged on demand – like a stop watch. Ironically, those blocks which do the least amount of work are often the most complex ones to pull apart, assemble and adjust.
Practically, due to functional integration and complexity (you hate that word too, do you?) and necessity to pack all those blocks together in a slim line watch movement, an overhaul would demand COMPLETE disassembly of ALL blocks, including those which may not need service as often as main spring or escapement.
So, you may ask (and rightly so!) would it be possible to engineer a watch mechanism where components are physically grouped in such way which would retain complexity, yet simplify production, assembly and maintenance?
The answer is yes – and it is called the ETA 2894-2.
Here is a picture of a TAG Heuer Monza which is equipped with ETA 2894-2 movement.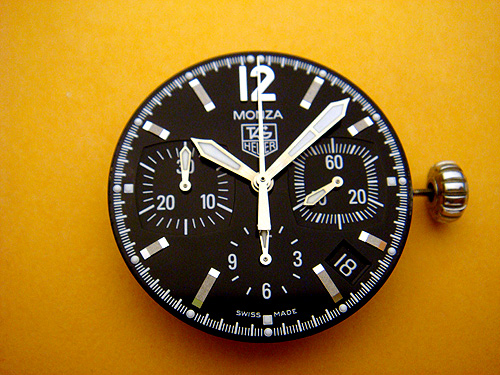 It is a self-winding (automatic) watch with date and chronograph (stop watch) function.
A typical example of a 'standard' Swiss watch made for a novice watch enthusiast.
There is not much to be seen from the dial side, so here is a photo of the back: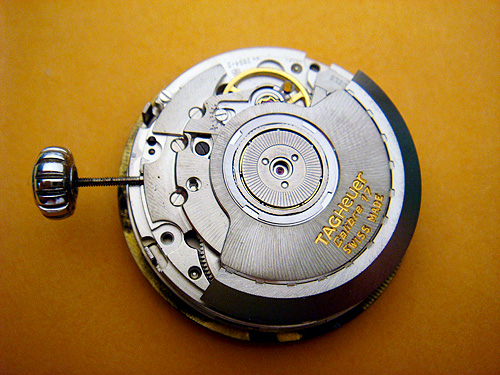 Again, from this view, 2894-2 looks like any ordinarily automatic watch- except for one detail: there is no sign of a chrono unit!
Well not until you remove 3 screws and separate two modules: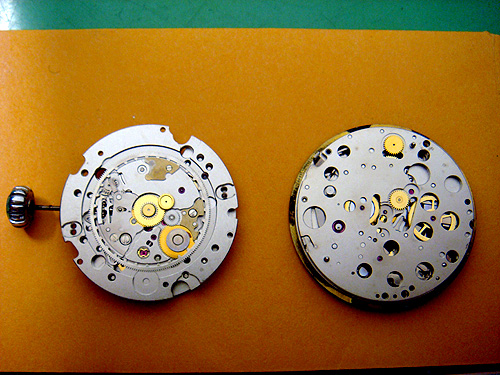 The module on the left is a 'work horse' and it contains all the hard working bits and pieces which require regular overhaul.
On the right, the chrono module houses a very complex but low-maintenance unit.
The level of modular integration (or should I say: modular separation) is really amazing. Unfortunately, the photos above do not reveal much of the complexity – not only each unit contains close to 100 parts, but each module does what it is supposed to do even when completely separated! Another important detail is in the fact that the motion from one unit is transferred to other in just 3 'points of contact': via the seconds, minutes and calendar wheel.
If you are a mechanically minded person, then you would appreciate how difficult it is to "break" the motion yet still maintain precision in execution and accuracy in performance.
Here is a photo which shows those 3 points of connection: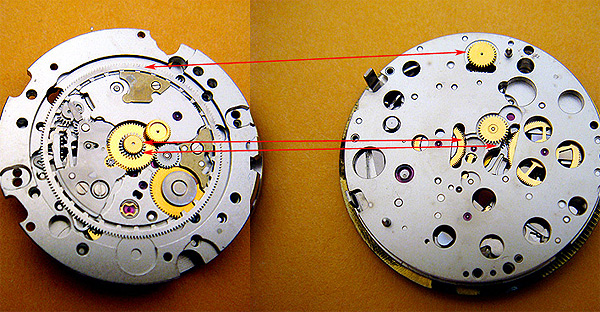 It goes without saying that watchmakers just adore the modular concept! If there is no fault in the chrono or calendar unit, a watchmaker can overhaul the watch without even having to remove the dial and hands! A 4 hours job reduced to 45 minutes.
Now, by disclosing all this information to you, you may think you have enough ammunition to accuse your watchmaker of cutting corners. However, don't use that argument- the chrono spare parts are not available from ETA. In case of fault, ETA would supply a complete module only. So by not pulling it apart, your watchmaker is actually saving you some serious money!
Of course, the base module should be serviced the same way as any other automatic watch.
Apart from TAG Heuer, there are number of other Swiss makers who happily use the very same movement – most noticeably, the Omega Speedmaster Reduced automatic chronograph. And here is a tip: the adjective reduced does not refer to it's size (39mm) but to omission of a date function.
If you are still reading this article then you are probably asking yourself one logical question: why aren't there more Swiss "sandwich" movements out there?
The answer to this question is: blame the purists!
If the critics are failed actors, then the purists are failed critics!
Purists are watch 'enthusiasts' who have their own view about everything watch related. There is of course nothing wrong with that – except that such view is based on an extremely narrow minded understanding of watchmaking and horology in general.
If I make a statement that "classical music is the only one worth listening to, except perhaps for jazz" then that would give you a fairly good idea of how narrow minded and disjointed I am. Also, this would be a great moment to switch to a completely different subject – or even better, leave the room.
Watch purists are exactly like that. They only recognize a handful of watch manufacturers as "true watchmakers" and everyone else who does not fit in their narrow-minded view are not worth worshiping.
For a purist, a modular movement is a betrayal of the watchmaking tradition, which, according to them, demands that all components must be placed in layers only above or below the main plate. There are number of other pre-requisites for a watch brand to qualify as 'purists approved' but most of them are complete nonsense so I don't even want to go there.
Of course, the current trend of the Swiss industry is towards complex, labour intensive, highly branded products designed to please wealthy purists, not an average watch owner or God forbid – a watchmaker. Old-fashioned watchmakers believe in conspiracy theory that Swiss watch houses are infiltrated and managed by a new generation of purists who come from high fashion, banking and management background, not the watchmaking side of business and who will continue to push watch production beyond common sense.
Practical, serviceable and affordable are no longer engineering pre-requisites.
A humble watches like the TAG Monza or Omega Speedmaster based on modular ETA 2894-2 calibre are already part of horological history.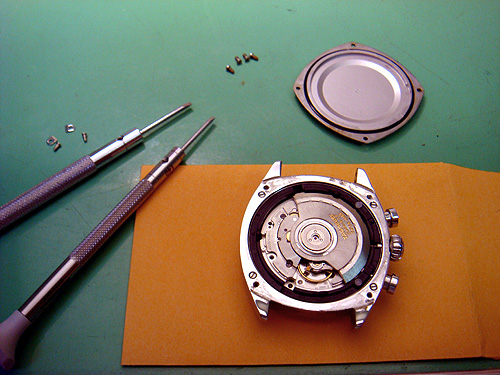 Calibre 1969
We're now only a couple of months away from the launch of TAG Heuer's new in-house chronograph movement- the Calibre 1969. That movement has a 3-6-9 layout, the same as the 3-register version of the Calibre 17. Added to TAG Heuer's new bi-compax Calibre 18 chronograph movement, it may be that the future use of the Calibre 17 will be limited.
Despite that, the Calibre 17 and its family of movements will remain an important one for collectors, especially those who focus on the re-edition series of the early 2000s.
***
A special thanks to Nick Hacko for his great article on the Monza